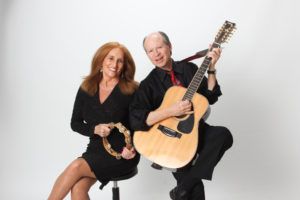 Hello everyone! We miss performing for you and as soon as it's safe, we look forward to joining you again in song and celebration. We mourn the many losses from the COVID virus, and pray for the health and safety of those who are affected. Please stay safe, be healthy, reach out to others, and rejoice in the songs and joys of life.
Welcome to the  "Jeff and Janis" website! We have been entertaining in the greater Chicago area and beyond for over 20 years! We thank our fans and the many groups and organizations that have helped us to perform over 700 shows for all kinds of audiences.
We have performed for the City of Chicago's "Under the Picasso" lunch series at Daley Plaza, The Northshore Center for Performing Arts, The City Winery, WFMT's Folkstage, Skokie's Festival of Cultures, and countless shows for private functions, organizations, fundraisers and adult education programs. We are always happy to discuss booking a show and hope to hear from you!
"Jeff and Janis"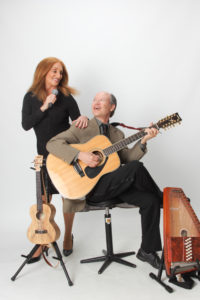 COMMENTS ON OUR SHOWS
"Jeff and Janis are one of the most delightful and entertaining musical teams I've seen in many, many years."
— Rick Kogan, WGN, Chicago Tribune
——————————————————————————————————-
"Well done! With a sense of fun, energy, and unpredictable harmonies, Jeff and Janis infuse old standards with new life and bring beauty to contemporary songs."
— Howard Friedland, Cantor Jewish Reconstructionist Congregation, Evanston, IL
——————————————————————————————————-
"The CD is great — Jeff and Janis have put their special spin on tunes we have grown to love."
—  Craig Taubman, Craig N'Co.
——————————————————————————————————-
FROM SOME MORE OF OUR FANS
"I just want to say THANK YOU … THANK YOU … THANK YOU … for a most delightful performance today. I can't think of a better time I've had in all the years I have known you two. I got nothing but praise from everyone."
— Ken Kaiz, Ezra Habonim-Niles Township Men's Club Program Chair
——————————————————————————————————-
"Outstanding performance filled with joy, passion, and pride. Beautiful performance and they are extraordinarily talented."
— Joyce Romanoff
——————————————————————————————————-
"I loved the show. Hearing these favorite tunes is something rare these days — What a gift! Thank you."
— Gina Speckman
——————————————————————————————————-
"What fantastic voices! You have to hear them for yourselves."
— Naomi Bank
——————————————————————————————————-
"This was a wonderful combination of Hebrew and American songs. Uplifting and positive."
— Gideon Falkin
——————————————————————————————————-
"We loved their energy and passion. Jewish folk music never sounded better."
— Lisa and Scott Gendell
——————————————————————————————————-
"I came with a heavy heart but floated out after the program with a feeling of pure joy. The performance was meaningful and enjoyable."
— Sandy Miller
——————————————————————————————————-
COMMENTS ON THE NEW SHOW ON COMPOSERS OF THE GREAT AMERICAN SONGBOOK: FROM TIN PAN ALLEY, STAGE AND SCREEN, FOLK AND POP
"Marvelous! We wanted more. We could have sung and laughed all night"
— Ione Novak
——————————————————————————————————-
"Informative and just what we needed in these uncertain times. A perfect respite and a wonderful musical evening — I loved it!"
— Joane Murvis
——————————————————————————————————-
MORE FROM FANS
"A magnificent walk down a diverse memory lane where Tin Pan Alley meets Pop and Folk and a swirl of spirited dance songs. A wonderful winding through time."
——————————————————————————————————-
"Great production and a rousing presentation."
——————————————————————————————————-
"The duo of Jeff and Janis is a gift of learning, love and enjoyment. Rich in connections to real life and soul — we appreciated being at this show."
——————————————————————————————————-"
"A fantastic blend of voice and joy of sound."
——————————————————————————————————-
"What a joy to learn and listen!"
——————————————————————————————————-