Jeff and Janis specialize in Group Events, Private Parties and Music Festivals
"Jeff and Janis are one of the most delightful and entertaining musical teams I've seen in many, many years"
Rick Kogan, WGN, Chicago Tribune
"Well done! With a sense of fun, energy, and unpredictable harmonies, Jeff and Janis infuse old standards with new life and bring beauty to contemporary songs."
Howard Friedland, Cantor Jewish Reconstructionist Congregation, Evanston, IL
"The CD is great – Jeff and Janis have put their special spin on tunes we have grown to love."
– Craig Taubman, Craig N'Co.
---
Recent Shows
April 8, 2018
Ezra Habonim the Niles Township Jewish Congregation at 4500 Dempster, Skokie, on Sunday, Men's Club program featuring "Jeff and Janis" performing works from Jewish composers from Tin Pan Alley, Stage and Screen, and Folk and Popular music. Call 847.675.4141 for more information.
http://www.chicagotribune.com/suburbs/deerfield/community/chi-ugc-article-jeff-and-janis-to-perform-music-of-the-jewi-2018-03-21-story.html
May 21, 2017 Noon Skokie Festival of Cultures https://www.skokieparks.org/node/5961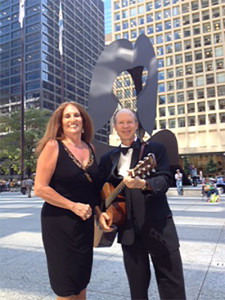 March 24, 2017 8 p.m. Friday Night Live musical Shabbat service at Ezra Habonim Niles Township Jewish Congregation 4500 W Dempster Skokie.
February 11, 2017   7 p.m. show at St. Tim's in Skokie. Coffee house night with folk music from different genres. From Guthrie to Dylan and more. https://www.facebook.com/sttims.coffeehouse/
October 23, 2016 Klezmer Brunch at North Shore Center for Performing Arts 20th Anniversary in Skokie.
November 29, 2016   7 p.m. Temple Beth Israel Sisterhood: World premier of new show highlighting contributions of Jewish composers to 20th century American music from Tin Pan Alley to Folk.
Contact Congregation Beth Israel for details   http://www.tbiskokie.org/default.cfm
DATE
CITY
VENUE